Immigration Attorney Laura Adjangba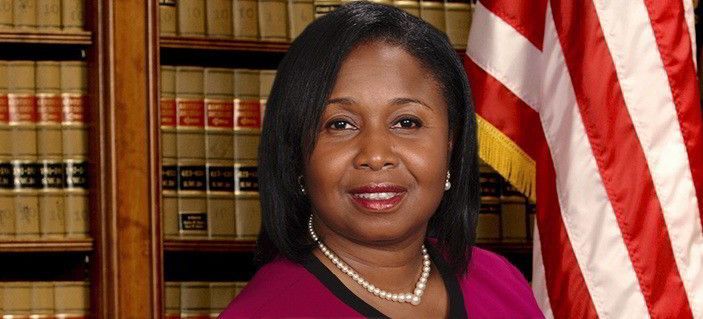 Laura Adjangba is an attorney whose practice focuses on Immigration law.  Laura has been practicing for the past 25 years and has successfully represented clients from over 45 countries throughout the U.S.  She obtained her law degree in 1996 at Temple University, Beasley School of Law, in Philadelphia.
Prior to law school, Laura worked as an Administrative Assistant in the Development and Fund-raising Department of the Lawyers Committee for Human Rights in New York. She also assisted attorneys monitoring human rights abuse in Africa and the Middle East.
After law school, Laura served as a Judicial Law Clerk for the late, Honorable June Strelecki, Superior Court Judge, Essex County Superior Court, Civil Division.
Before opening her practice, Laura worked as a Supervising Attorney for the Immigration Representation Project at Legal Services of New Jersey. In this capacity, she represented detained immigrants seeking asylum at the county jails and detention centers, and other immigrants throughout New Jersey.
Laura's practice focuses on Family Immigration, V.A.W.A., Waivers, Naturalization, Removal defense and B.I.A. Appeals. She is a member of the American Immigration Lawyers Association and is very passionate about her work as an immigration attorney.
Laura is also the founder and president of Women Leaders in Action (W.L.A.), a non-profit organization, whose goals are to educate and empower women in self-development through conferences and seminars, and to raise funds and award scholarships to high school students going to college.
She is also a firm believer in the saying "To whom much is given, much is expected." To that end, she mentors and motivates people to achieve their goals. Prior to COVID-19, Laura volunteered as a naturalization instructor at her local library, and assisted applicants with their applications for naturalization. She also volunteered at her church by crocheting and knitting prayer shawls and scarves for the sick and homeless. 
She is an avid reader and enjoys traveling around the world with her family. Laura is fluent in French and Italian, and conversant in Spanish. She is married and has two adult children.
---
Why Laura?
Representation in all fifty states

Member – American Immigration Lawyers Association (A.I.L.A.)

Member – New Jersey State Bar Association
Mel C

2 years ago

Thanks to the Law Office of Laura Adjangba, my case was closed quickly. She is compassionate and caring. I was nervous to meet with her because of the language barrier but she made me feel comfortable. When I met with her, she explained the whole process and all of the requirements which made the case go smoothly. I'll definitely drive from PA to meet with her and continue to use her services in the future.

Isabel Jarzebiak

2 years ago

Mrs Adjangba was so professional and so helpful with the immigration process of my husband's case. I would recommend her to anyone!

Barbara B

3 years ago

Great staff. Laura really knows her stuff and very competent and can get you out of the stickiest of situations. Highly recommend!!!

Sam Adjangba

2 years ago

The best immigration law attorney in the universe.

Dao Sadik

a year ago

Positive: Professionalism, Quality, Responsiveness, Value